Spotlight Podcasts
JOSH GAYLE - DECLARE WAR ON INACTION
This episode, we're joined by an inspiring filmmaker, and graphic design specialists, Josh Gayle. Josh is a 2021 graduate from the University of Maryland, with a Bachelor's degree in Communication. He currently works as a video editor for the YouTube channel @Delafe Testimonies as well as a nonprofit organization. Josh explains the importance of knowing your "why" and keeping it in the forefront of your mind, the impact of collaboration, and defining your own definition of success. 
Stay updated with new releases of Josh's films and projects by subscribing to his Youtube channel @Josh Gayle and follow @Delafe Testimonies.
To watch the full episode
GABBS FERRUFINO - USING PAST EXPERIENCES AS A STEPPING STONE FOR FUTURE SUCCESS
On this episode, CollegeTracks alum Gabbs Ferrufino joins us to discuss how her foundation set her up for success and the qualities she used to get where she is. Gabbs recently graduated from Loyola University Maryland with a BA in Communications specialization in Advertising and Public Relations. Before graduation, she accepted a job offer as Project Coordinator in Account Services at HZ based in Rockville, MD. During her free time, she loves to dance, do outdoor activities, and try new food places in the DMV area. Enjoy this episode!
To watch the full episode
CHARMAINE HIPOLITO - EXPRESSING CREATIVITY IN THE BIOTECH FIELD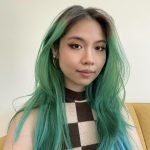 This time we are joined by Charmaine Hipolito, a Cell Therapy Specialist at Kite Pharma. Charmaine graduated with a BS in Translational Life Science Technology from UMBC, Shady Grove campus. Charmaine has had a myriad of experiences in the biopharmaceutical industry, including working with American Gene Technology and the John Hopkins Community Physicians clinic. Charmaine shares her experiences working in her field, how she expresses creativity in her work, her educational journey, and more!
To watch the full episode
JEAN-PIERRE MOUNDOU - FINDING INSPIRATION WITHIN HIS ENVIRONMENT
CollegeTracks Spotlight is back, this time in written format! The spotlight is on Jean-Pierre, a 2022 UMD, College Park graduate.  Jean-Pierre received his bachelor's degree in Romance Language, and he reflects on his journey as a new high school student arriving in America from Cameroon, and the inspiration he drew from his surroundings that influenced his studies.
To read about Jean-Pierre's journey
NADJA AMAGUANA - BEING COMFORTABLE WITH BEING UNCOMFORTABLE
On this episode, we spotlight Nadja Amaguana, a UMD and CollegeTracks alumna. Currently working as an Investor Relations Specialist, Nadja shares the roadmap to arriving at her destination as well as the lessons she has learned along the way.
To watch the full episode